---
Before 1975, Vietnamese men and women came to the United States to study and to receive military training. In the months before the fall of Sai Gon, Vietnamese orphans were evacuated to the United States. As Sai Gon fell in April of 1975, Vietnamese men, women and children began to come to the U.S. as refugees.] This web page presents a synopsis of Vietnamese immigration [since 1975], and [of] Vietnamese Americans' struggle to forge a better future.
The first refugees were [primarily] South Vietnamese soldiers, government officials, and their families who fled when their country fell. About 130,000 refugees resettled in the United States in 1975. They left a country devastated by years of war involving France and the United States, [and by] a civil war between North and South Vietnam seeking for freedom. The first wave [fled] mainly because of political reasons. [The] [h]istory of [Vietnamese] [i]mmigration is divided into three waves. The first waves occured in April [of] 1975 when Vietnamese were evacuated by air and sea.
The Second wave was from late 1975 [to the late 1980's when] Vietnamese escaped by land and sea. These Vietnamese are most popularly known as the "boat people." The third wave [began in the late 1980's when former prisoners of reeducation camps began to enter the U.S. through the "H.O." program.]
First Wave Second Wave Third Wave Vietnamese Immigration in Seattle Seattle's Little Saigon
---
TThe first wave of refugees, involving some ten to fifteen thousand people, began at least a week to ten days before the collapse of the [S]outh Vietnamese government. [These residents of Vietnam joined residents of Laos and Cambodia in seeking refuge.] Although Vietnamese refugees had a choice of countries to which they could apply, their acceptance was subject to [each] country's approval. They were interviewed by officials fro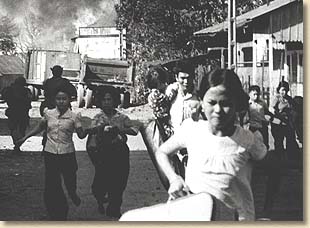 m the host countries] and then had to wait for a response. Their first choice [was] usually the United States, but Vietnamese refugees settled in many countries around the world. [By 1980,] Vietnamese counted for 90 percent of Southeast Asian refugees [arriving in the United States]. When [Vietnamese] first came [to the United States,] the condition[s weren't] as great as they thought [they] would be. [These early refugees] were moved to a military camp and had to [live] there until an American citizen sponsored them. Most [refugees] were sponsored by a church or some other non-profit organizations. These organization[s] [knew] who to sponsor because the [refugees] had to advertise [in] American newspaper[s] if [they didn't] have any relative[s] living in the United States or other acquaintances who can sponsor [them]. Although jobs and language [were] the most serious problems they had to face, there are also some other problem they had to face among themselves.
Although Vietnamese refugees had a choice of countries to which they could apply, their acceptance was subject to the country's approval. They were interviewed by officials from the host country and then had to wait for a response. Their first choice is usually the United States, but Vietnamese refugees settled in many countries around the world.
---
TThe second period, when refugees left Vietnam in droves by small fishing boats from the late 1970s to the early 1980s] marked the era of [the] "boat people". Many Vietnamese [wished to leave Vietnam in order] to escape the political oppression, the major social, and economic reforms instituted by the authoritarian communist government of North Vietnam. Because most of them escaped in homemade, poorly constructed boats and wooden vessels, many came [close to] death. [Others] faced sea pirates, sudden and vicious storms, and food shortages. The death rate of the Vietnamese "boat people" was very high. Hundreds of thousands [of them] drowned in the sea. Refugees who reached the shore of Philipines, Malaysia, or Hong Kong had to live in refugee camps. The refugee camps soon became overcrowed and new arrivals were refused entry. They were given supplies of food, water and fuel and then towed back out to the sea. In desperation, some refugees sanked their boats at night in order to force the local authorities to accept them. Others had to remain on board the boats for several months before they were allowed to disembark. Yet others were victims of the sea and died without reaching a camp. In the camps, escapee[s] had to line-up for food, for water, and to use [the] facilities. Entire families were crammed into minimal accommodation[s], often not more than 1 or 2 square metres in size. Many camps were little more than gigantic prisons. Living condition[s] were more reasonable in camps that were supervised by the United Nations High Commissioners for Refugees (UNHCR) [If applicants were granted entry to the United States, they often found that life was difficult]. Refugees of the second wave found that jobs were more difficult to come by, since most were taken by [earlier immigrants]. A few Vietnamese organization[s] developed to help newcomers. Some Vietnamese market and entertainment place[s] also developed. Vietnamese immigrant organized themselves as they tr[ied] to bring back Vietnamese culture. Most of these [organizations were] sponsored by the government.
---
In [the] 1990s, the third wave of migration occur[red]. Now, since more organizations [were] [available] to help new Vietnamese immigrant[s], they had less hardship adapting to the new environment. While more organization[s] were developing, more laws also were developing to [reinforce] the Asian community. In general, the Vietnamese community became more organize[d] as more people migrate[d] to this country. [T]oday we have more than 2.5 millions people in the United States. In sum, the exodus of Vietnamese refugees to the United States was a difficult process. [For migrants of each period], the journey to America left a lasting impression on all those involved. For some, the long journey was made easier because they were able to leave during the earlier period when restrictions were not as severe, or when they were younger. For others, the journey was more traumatic because of their family circumstances, or because they had been caught previously trying to escape and were sent to prison. Despite the differences, the uncertain and dangerous journey across the vast ocean to a new and unknown destination made it a difficult journey for all.
---
Vietnamese Immigration in Seattle
In mid-1975, the governor of the State of Washington accepted 500 Vietnamese immigrants. The number of immigrants increased to about 2000 by the end of 1975. In the 1980s, the Vietnamese population had reached 30,000 in Washington state.
[By] 1976, Vietnamese had already begun to meet and develop organizations, although the process was very slow. According to county records, the first four organizations were in Long View, Seattle, Tacoma and [Spokane?]. The names of the organizations were Nguoi Viet Ti Nan Tai Seattle and Ai Huu Nguoi Viet Tai Long View for example.
There were 16 organizations in 1983. Besides Hoi Than Huu, we had Hoi Cuu Tro, Thuong Nhan, and [the] Vietnamese council. At the beginning, resettlement program[s] [had] not [yet developed]. Vietnamese immigrants faced many difficulties: they understoo[d] little English; they didn't have [many necessary] job skill[s]; and it was hard for them to just get their driver['s] license. Many immigrants had to go [to] work for canneries in Alaska to earn their living. The first Vietnamese newspaper that appear in Washington state was Dat Moi (New Land), the editor of Dat Moi was Mr. Vinh Duc Vu. He continued to develop the newspaper until 1981. From 1981, Mr. Giang Van Nguyen took over the editor.
In 1987 the newspaper stopped publication. The Vietnamese community in Seattle had developed since 1975. In cultura[lly]l, religiously, and economically. Vietnamese immigrants in Seattle didn't have any problem developing religiously. In the beginning of 1976, many immigrants had to use the Japanese temple to conduct praying services. The first Vietnamese temple in Seattle was the Vietnam Temple located [n]orthwest of [the city]. Later, the temple moved to Martin Luther King Way because they had bought a bigger house there. In 1975, the first Vietnamese church was developed on Pearl Street in Seattle. Its name was Vietnam Church. The International District became the logical focal point for the first Vietnamese immigrants.
There was not a lot of opportunity for Vietnamese businesses to get started in Chinatown's core, which already developed and owned by longtime Seattle families, primary Chinese-and Japanese-Americans. But [their] was land available for building and redevelopment on the [District's] eastern edges. Mr. Khanh Nguyen recalls that the first Vietnamese business in Seattle, a grocery, opened on Second Avenue, near Kingdome. Then, Mr. Duc Nguyen began Saigon Market on Jackson Street, south of 12 Avenue, and persuaded his landlord, [J]apanese-American businessman Will Shiomi, to build Aisan Plaza at the northwest corner of 12th and Jackson. Propective tenants for the buildings have included [many] Vietnamese, other Southeast Asians, and new immigrants from Hong Kong and Taiwan. Mr. Khanh Nguyen, for one, thinks the key is playing up the district's Vietnamese identity. He's trying to organize Vietnamese businesses to lobby for an official sign saying "Welcome to Little Saigon", establishing a museum on the refugee experience, and have an outdoor mural painted to highlight " the Vietnamese flight to freedom." Vietnamese community in Seattle had developed in 1975, including cultural, religous, and economic.
The Vietnamese population kept increasing until today. Many children of immigrant[s] ha[ve] succeded. There are many success stories in education and [economics] in Washington state in the past 25 years. Today, the Vietnamese population in Washington rank[s] the third in the United States.
---
Now you can experience Saigon , Vietnam without even leaving the country! Nested in an area town as the International District, at corner of 12th Avenue and Jackson Street, is a plot of land know affectionately as Little Saigon
A Walking tour of the area could encompass a half-dozen grocery stores and as many full-service Vietnamese restaurants, three seafood markets, four pho soup restaurants and serveral banh mi hoagie shops, along with doctors' and lawyers' offices, jewelers, video stores and herbalists.
The heart of the community is 12th Avenue and Jackson Street, where development spurts in the mid-1980s and again in recent months have added more stores and restaurants. Although many cater to Vietnamese tastes, the stores also have Chinese, Thai and Camodian foods, and both Vietnamese and Chinese are heard on the Street.
One of the most challenging aspects of visiting Little Saigon is to select the restaurant to sample. Whether your tastes lean towards beef, pork, poultry or fish, even if you are a vegetarian, Little Saigon offers a huge variety to choose from. The dishes can be a five-star red-hot flaming dish or it can be gentle and mild. The cuisine is very diverse, enjoy your time and explore akk the dishes on the menu.
Shopping in Little Saigon is another delightful experience.
Everything from the mundane to the exotic: red delicous apples, navel oranges, carrots, bell peppers and bananas, as well as green plantains, fresh water chesnuts, stalks of sugar cane taller than most men, baby-arm-size "hands" of young ginger root, red-fleshed plums, immature white-skinned coconuts with jelly-like flesh inside, a dozen kinds of greens from the cabbage family, fresh herbs and several varieties of eggplants.
Around the produce de[artment, cold cases stock the bags of fresh wheat and rice noodles, about a dozen varieties of soybean curd, tofu, including almond-flavored dessert tofu, and fresh surimi meatballs and sausages made from ground and seasoned fish.
Cuisine: One of the most noted and aclaimed aspect of the Vietnamese is thier cuisine. Whether your tastes lean more towards beef, prok, poultry or fish, even if you are a vegetarian, Little Saigon has many exciting foods that will delight your senses. The dishes can be a five-star red hot flaming dish or it can be gentle and mild. The cuisine is very diverse. Visit Little Saigon and give yourself and some friends a falorful experience.
If you're having visitors, take them to Little Saigon! Show them another side of Seattle. Experience the Vietnamese culture! Meet the people that make the culture! Enjoy the delicous and exotic delicacies! Seattle's Little Saigon is a great plcae to visit!
Visit Seattle's Little Saigon!
______________________________
Source: Seattle Times
---